Peru is a country in western South America, it is the fourth largest country in Latin America.
The production of alpaca textiles, clothing and accessories in Peru has shown amazing growth in the international market in recent years. Incalpaca's knitwear factory is located in Arequipa, Peru, only 5 to 8 hours by plane from the major markets in the United States and Canada. Our factory stands out thanks to the high quality and prestige of Peruvian fibers which positions us as one of the main suppliers of alpaca garments.
Incalpaca has been working with the world's leading fashion brands for more than 25 years and exports to more than 50 countries, and is one of the leading suppliers of knitwear in Latin America.
We have five production lines: Accessories, Home Line, Knitwear, Outerwear and Fabrics; providing a wide range of products and processes to our customers.
There is currently a lot of concern for the environment and fair trade, and we firmly believe that sustainability is the only way forward.
Our skilled craftsmen have been working with us for more than 15 years to ensure high quality in our garments.
Finally, Incalpaca is a vertically integration company, part of Grupo Inca, one of the most extraordinary groups in the local economy with more than 30 years of experience producing high quality and sustainable knitwear.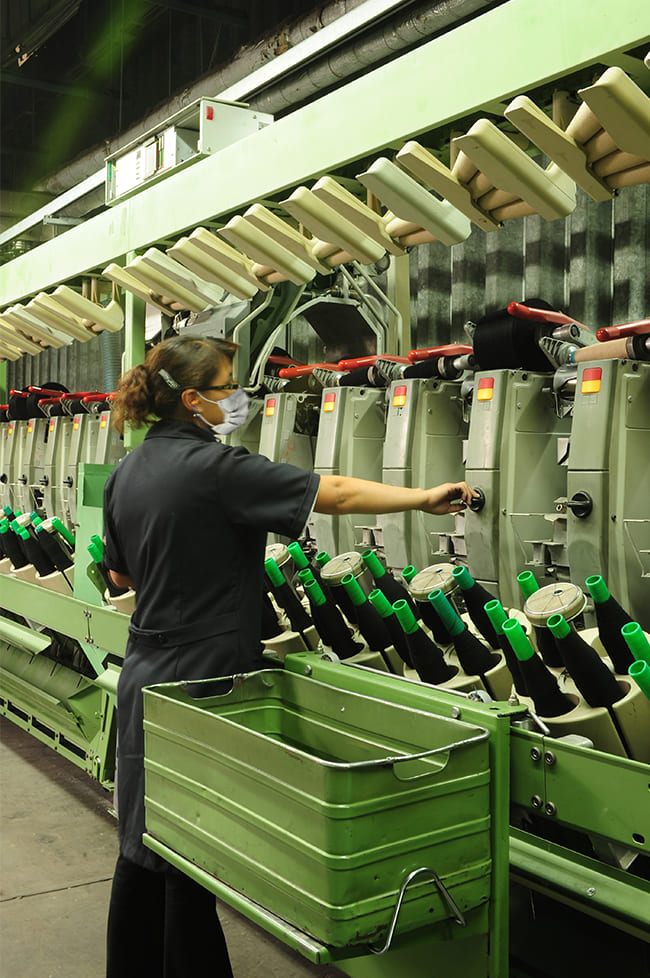 Our Shima Seiki and Stoll machines are capable of producing more than 30,000 units per month from caliber 3 to 16. We are highly specialized in the manufacture of clothing and accessories made with noble fibers such as alpaca and vicuña. Likewise, we can work with cotton-based fibers and mixtures with silk, nylon, cashmere and wool.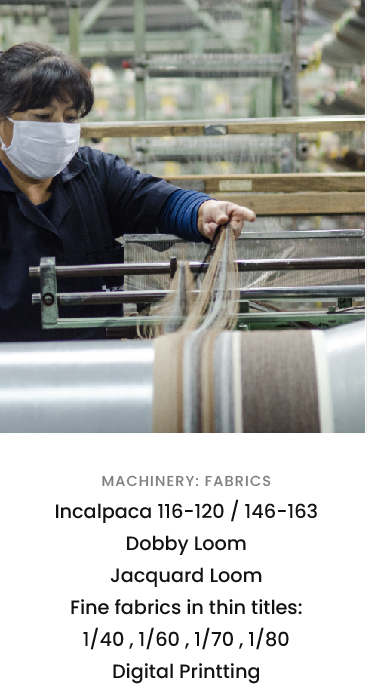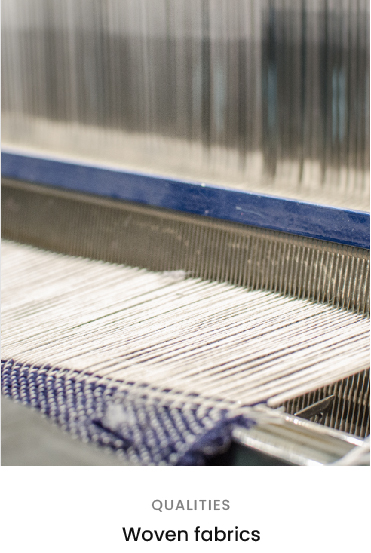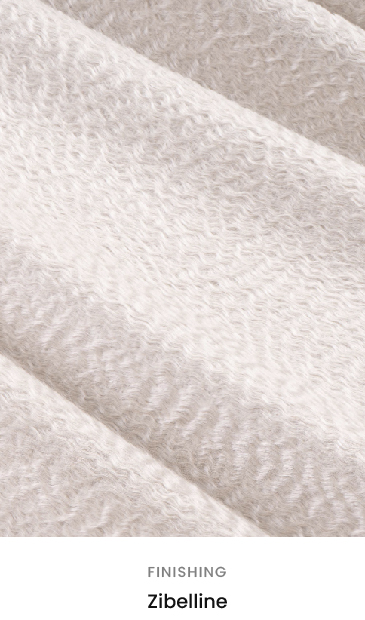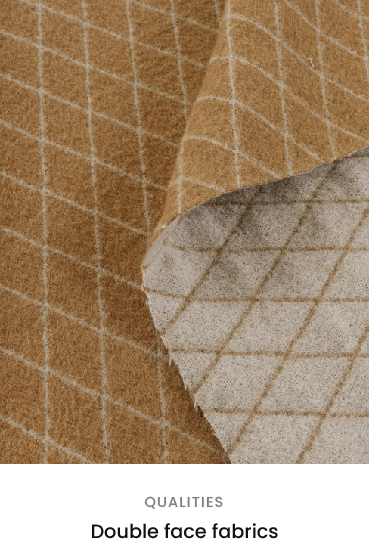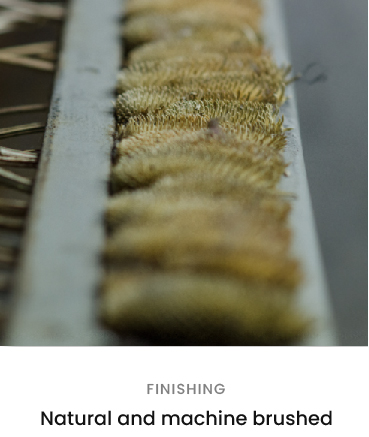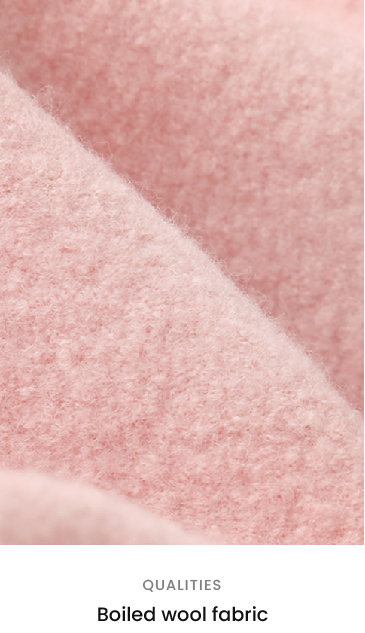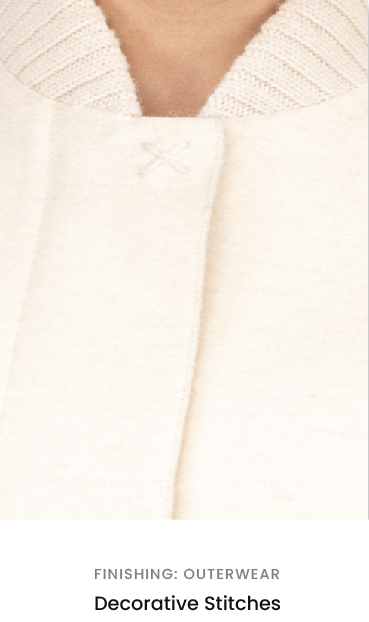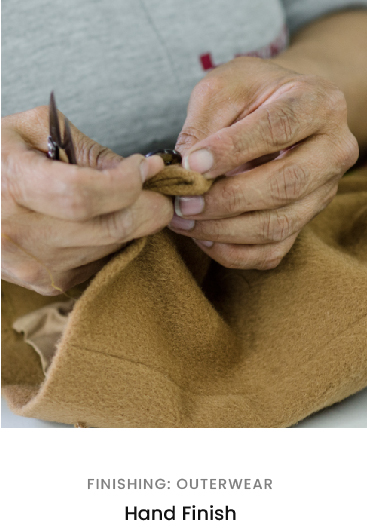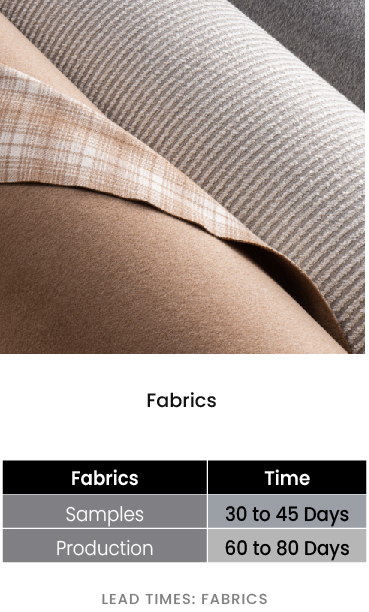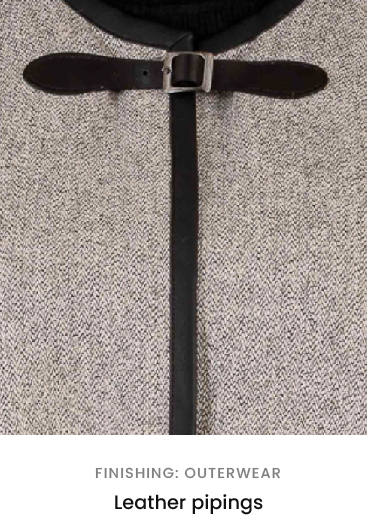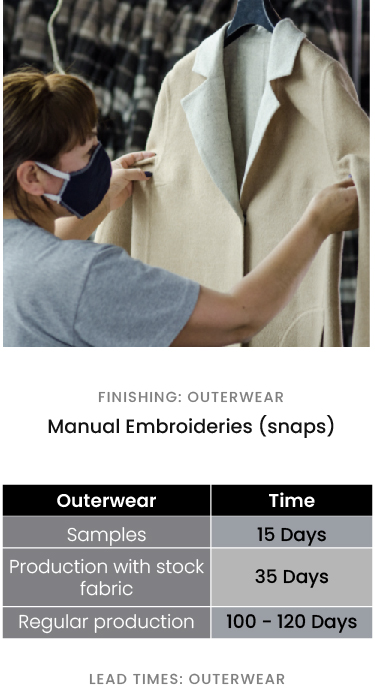 We are committed to protecting our people throughout our operations. We assume the responsibility and commitment to ensure the safety of our stakeholders, in particular our employees, our suppliers, our community and, of course, our customers throughout our value chain.
These images have been taken in 2019, before the pandemic.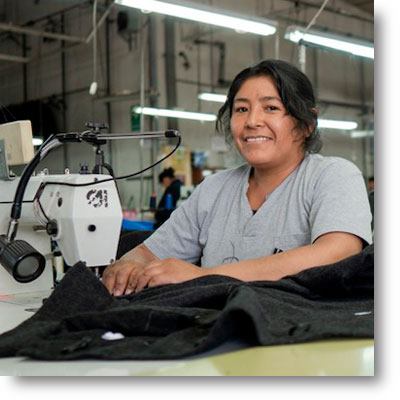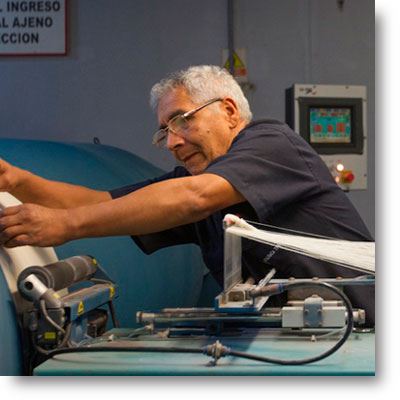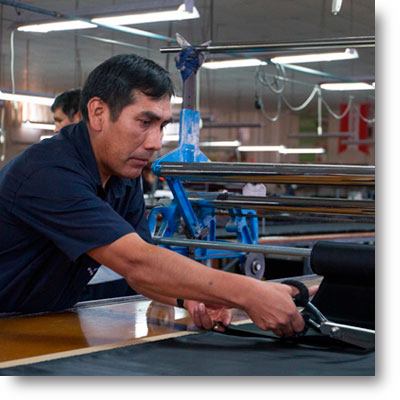 Carlos Achahui
CUTTING AREA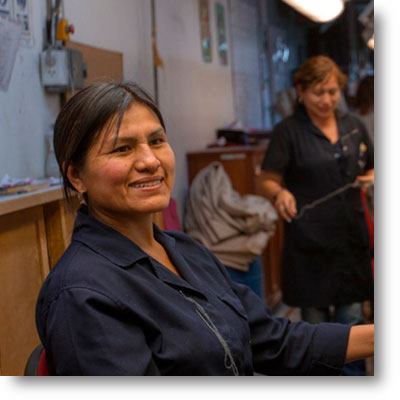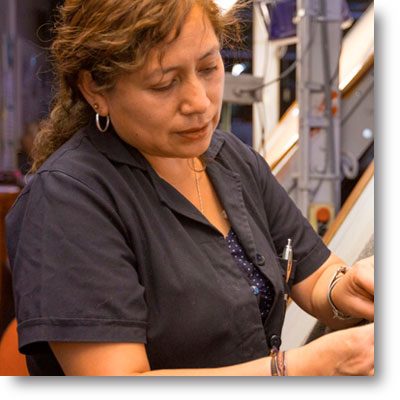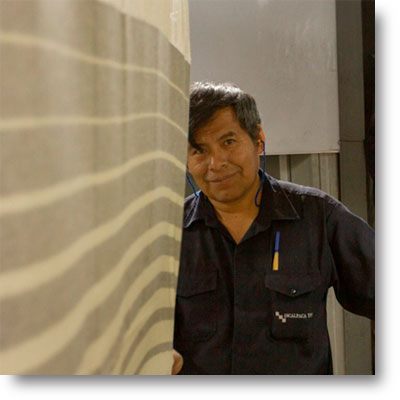 René Cutisaca
FINISHING AREA
We ensure a safety environment for those who are involved in the production chain, speciallyour coworkers:
Gender equality: 62% of our collaborators are women.
Special skills: We have 10 workers with hearing disabilities, some of whom have been working for more than 15 years, to facilitate their communication, the personnel who work with them have received a sign language course.
Benefits: In addition to their labor benefits
under the law, we have additional programs and services; such as
– Death assistance fund: Provide
financial assistance when a family
member of a worker dies.
– Health care assistance: We provide
free medical and psychological
service within the company to workers
and their families.
– Consulting and legal advice: We
provide support for consultations on
labor, criminal, family and civil law.
– Scholarship program for workers and
their families: We stimulate the
personal growth of the children of
workers who have outstanding
academic performance in their study
centers.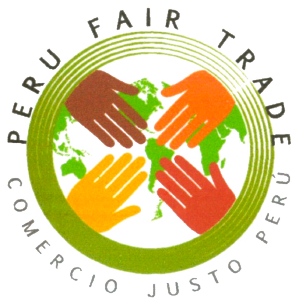 When a product carries the FAIRTRADE Certification Seal it means that producers and traders have met Fairtrade criteria. The criteria are intended to correct the imbalance of power in commercial relations, the instability of the markets and the injustices of conventional trade.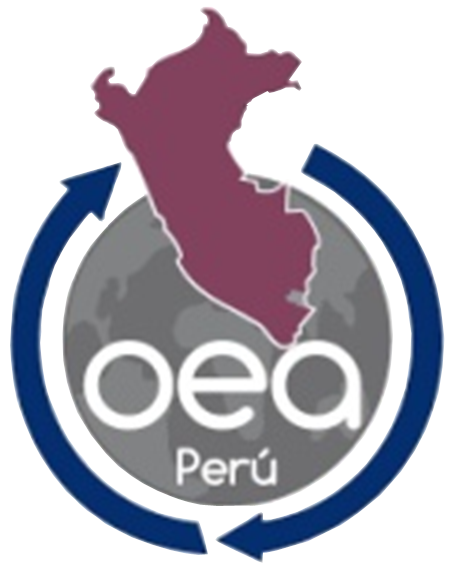 AEO Certification: Obtained in January 2017, it verifies that an adequate system of accounting and logistical records, financial solvency and an optimal level of security is being used.
GRI: Obtained in 2018, assesses the economic-financial, social and environmental performance of organizations. It also values the guidelines that are implemented to support socially responsible management.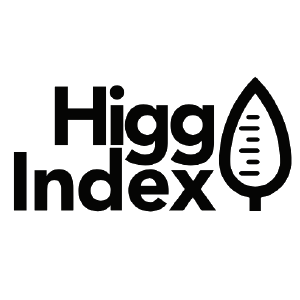 The Sustainable Apparel Coalition is the developer of the Higg Index, is a nonprofit organization whose members include brands producing apparel or footwear; retailers; industry affiliates and trade associations; the U.S. Environmental Protection Agency, academic institutions and environmental nonprofits.
You can also look for our HIGGS Index on www.Higgs.org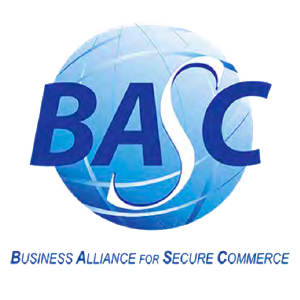 BASC: Obtained in February 2005, it promotes safe practices and simplification mechanisms in the Peruvian foreign trade supply chain, in cooperation with public and private sector authorities and international organizations.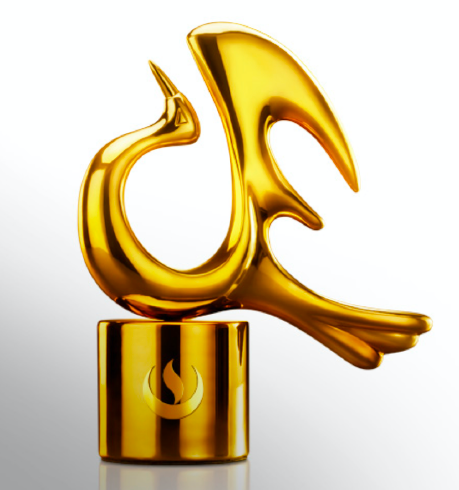 Business Creativity Award 2019
Project: Hilando Fino: More than 20 years innovating the alpaca fashion industry
Category: Art and Design
Awarded by the Peruvian University of Applied Sciences.
2001 Business Creativity Award
Project: Set Oro de los Andes
Category: (No registration)
Awarded by the Peruvian University of Applied Sciences.
Award for Sustainable Luxury in Latin America
Project: Vicuña, Luxury Collection
Category: Fashion and Accessories
Awarded by: Center for Sustainable Luxury Studies (Argentina)
EMA Award – Most Admired Companies in Arequipa
Incalpaca TPX
Awarded by: PwC and G de Gestión
Award: Good Labor Practices 2019
Incalpaca TPX
Category: Prevention of occupational health and safety risks, sexual harassment and workplace harassment
Awarded by: Ministry of Labor and Employment Promotion of Peru
Award "Promotion and respect for union activity, worker service channels and their participation in the management of the company" 2017 – First place
Awared by: Ministry of Labor and Employment Promotion, for Good Labor Practices
Award: "Customers First" 2015
Incalpaca TPX
Category "Execution of guarantees", with the nomination "Quality guarantee that transcends borders"
Award granted by INDECOPI
Award: "Exporting Success" 2014
Incalpaca TPX
Award granted by PROMPEX and MINCETUR.
Award: promotion of equal opportunities between men and women, non-discrimination by credo, disability, economic condition, race, sex and equality of vulness groups -2015 First place
Incalpaca TPX
Recognition granted by the Ministry of Labor and Employment Promotion, for Good Labor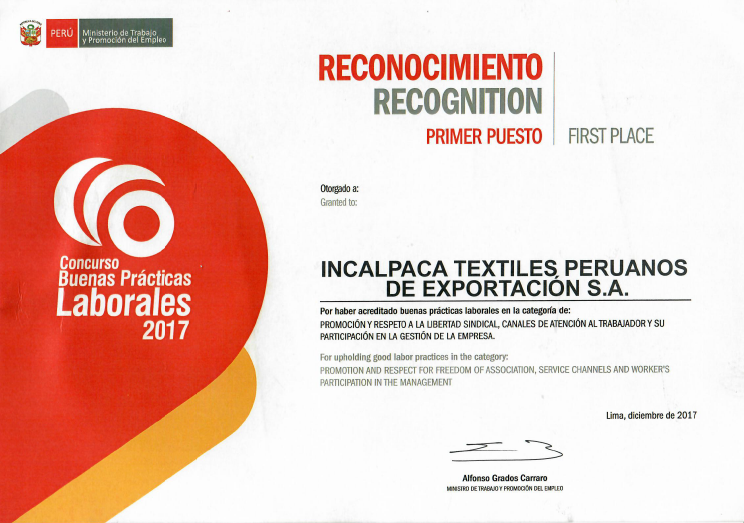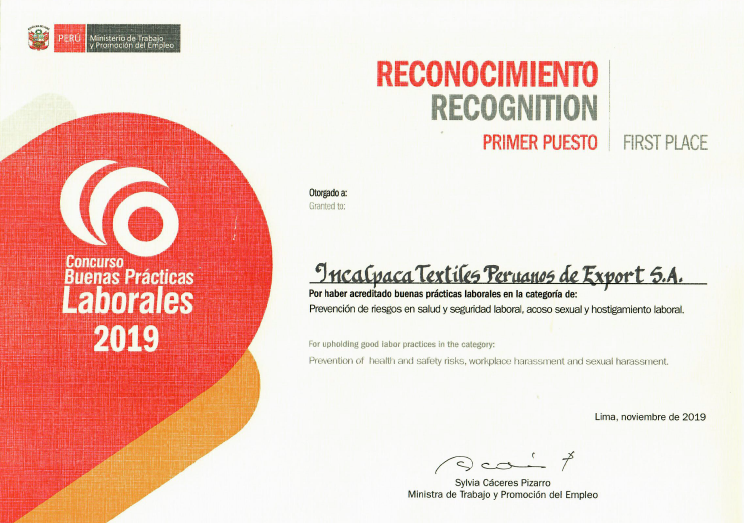 For Additional
Information
Contact us
Please feel free to contact us for details! If you have any questions, we are happy to answer them and to offer you the whole assortment of our services!
COMMERCIAL MANAGER
jprivera@incalpaca.com
WOVEN FABRICS, ACCESSORIES AND HOME SALES MANAGER
cfuentes@incalpaca.com
OUTERWEAR SALES MANAGER
kpinto@incalpaca.com
Calle Cóndor 100, Tahuaycani Arequipa – Perú